In a world where the environment is constantly evolving, it's only natural that routes may change due to impassable roads, changing access restrictions or temporary construction sites. Hence, the ongoing updates in map data can lead to changes in a Tour that was planned some time ago. Through dynamic route updates, we ensure that changes to your route occur only when absolutely necessary, avoiding unexpected alterations due to minor map updates. To keep you informed about any modifications, you will receive a routing update message right within the planner or when starting a navigation.
Tip: This article describes how you can contribute to maintaining an up-to-date map.
When are routes updated?
Every time a previously planned route is opened in the Route planner or when starting a navigation in the app, komoot verifies if it corresponds with the most recent version of the underlying map data. A notification will indicate whether the route is up-to-date, meaning no changes have occurred, or if it has been updated, indicating that some parts of the route have been modified to reflect the new map data. Routes that have been planned recently, always utilize the latest map data, eliminating the need for update checks.
How do I know my route is up-to-date?
Each time you edit a Tour in the Route planner or start a navigation, komoot checks if the route corresponds to our most recent map data. In the event of detecting any issues, such as closed roads, komoot will update the corresponding section of your route. Learn more about the three route statuses: "Tour is up to date", "Tour was updated" and "Tour could not be updated". If the route was planned recently, it is already based on the most up-to-date map data. In this case, no notification is displayed.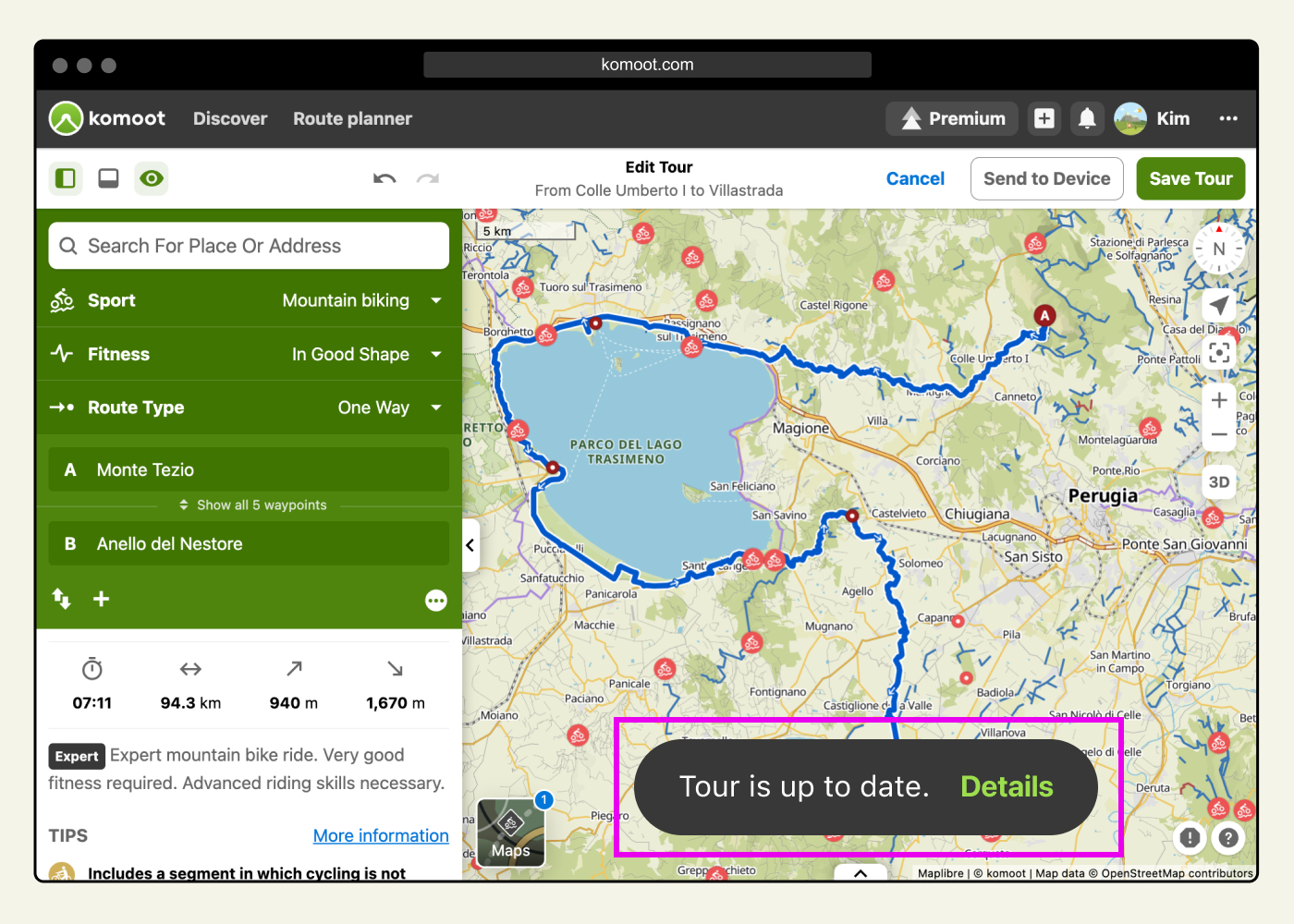 How can I see where my route changed after it's updated?
When you receive the "Tour was updated" notification, it indicates that one or more sections of your route have been modified to align with the most recent map data. This adjustment may occur when encountering a closed or impassable road.
To identify these updated sections, you can easily compare the red line (representing the original route) with the blue line (indicating the updated route) on the map. This visual distinction allows you to track the changes made for a smoother navigation experience. The red line solely illustrates the change and is not displayed during a navigation.

How can I undo changes to my route?
Since changes to your route occur only when a road becomes impassable, it is not possible to revert these changes. However, if you are determined to follow the original route in that specific section, you can manually add an off-grid segment.
Are GPX exports and routes transferred to my devices also updated?
No. Currently, komoot only checks for route updates when a route is opened in the Route planner or when mobile navigation starts. As a result, GPX exports and synced routes on your devices are not automatically updated and will reflect the route as it was originally planned. To ensure that your GPX exports are up-to-date, you can open the route in the planner and save it before exporting the GPX file.
What does "Tour could not be updated" mean?
Komoot may encounter technical challenges preventing the update of your route with the latest map data under certain circumstances, such as a weak internet connection or excessively long Tours. In such cases, you will receive a message stating "Tour could not be updated". Consequently, the planner or navigation will display the route as originally planned, without any modifications.
To address these issues, it is recommended to ensure a strong internet connection, preferably a stable WiFi connection, and attempt the update again. Additionally, for longer Tours, consider saving them in multiple stages to enable potential route updates to be displayed in the Route planner. This way, you can maximize the chances of having the most recent route information at your disposal.
Why does my route have more waypoints than I originally added?
To align your route with the most up-to-date map data and minimize alterations to the originally planned Tour, komoot may automatically add additional waypoints during the update process, ensuring the incorporation of changes resulting from map updates.