Send to Device: How to send a Tour from Website to phone?
From the komoot website, you can send a Tour directly to your smartphone by using the "Send to Device" button. The "Send to device" feature triggers a notification on your smartphone that allows you to open the Tour instantly and use it for navigation. This feature is available from the Route planner, from planned and completed Tours and even Tours of other users or from Smart Tours that you find in the Discover section.
Note: All Tours saved on the website can still be accessed through the app's profile section (Profile () > Tours > Planned). The "Send to Device" feature acts as a convenient shortcut, enabling users to open planned or discovered Tours on the website directly on their smartphone.
Requirements
In order to receive a notification on your smartphone regarding the sent Tour, certain requirements must be met:
The komoot app must be installed on your smartphone.
Ensure that you are logged in to the komoot app using the same credentials as on the komoot website. Compare your User-ID in the app and on the website.
In your phone settings, notifications for the komoot app must be enabled.
Your phone must be connected to the internet via either WiFi or mobile data.
 Attention: If komoot is installed on multiple phones, the Tour will be sent to all of them. Check if you are logged in on all phones with the same credentials.
How do I send the Tour to my phone?
You can find the "Send to device" feature on the Tour profile page of your own planned and completed Tours, on Tours from other users or in Smart Tours, which you can find in the Discover section. The feature is also accessible from within the Route planner. Follow these instructions to send a Tour to your smartphone: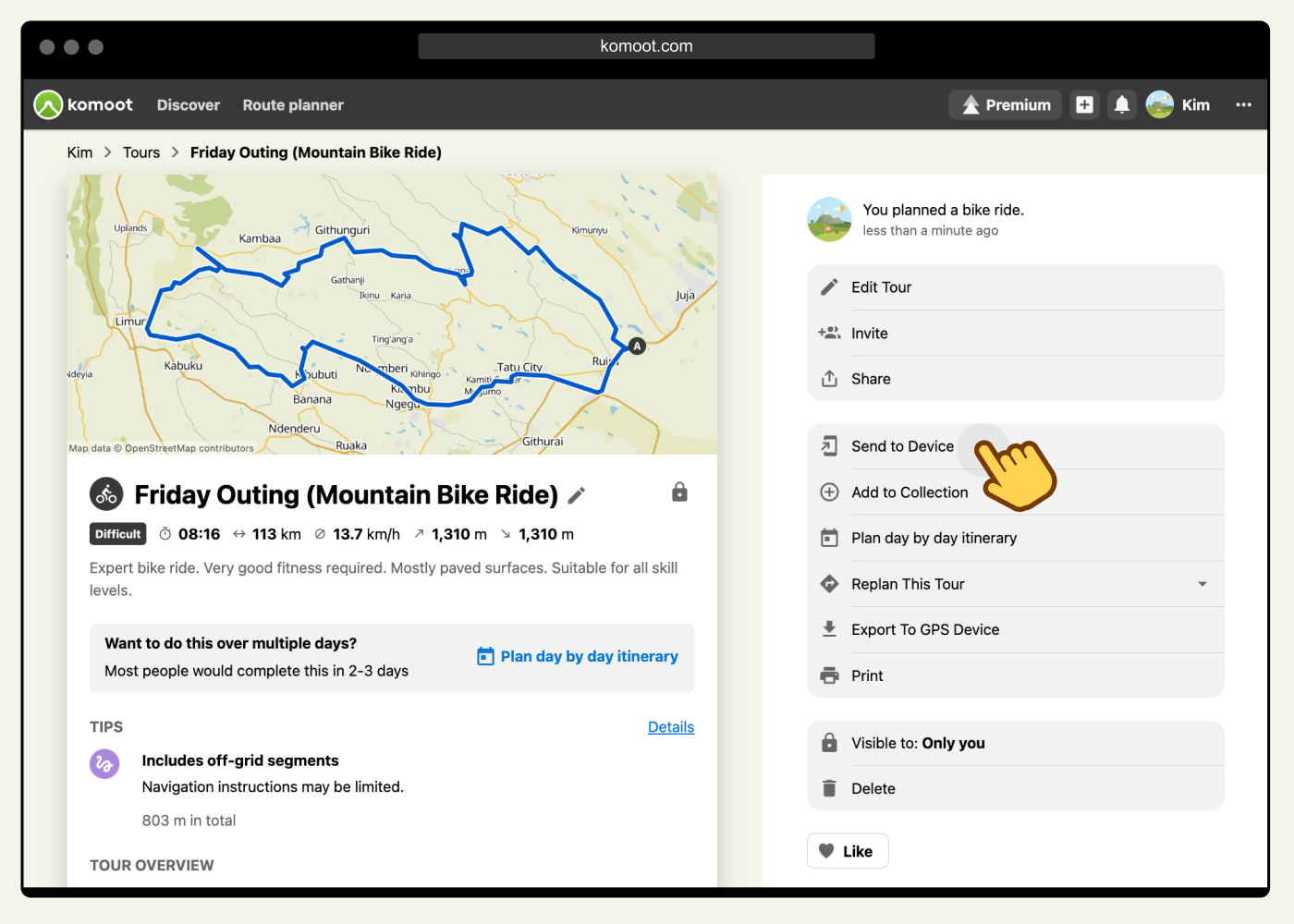 Open the Tour you want to send to your smartphone.
Click Send to Device.
Select Phone, which will send the Tour to your phone.
If the routing differs from known routes, choose whether you want to follow the original route or adapt the route to known tracks, which will allow more accurate navigation.
Click Send to Device.
The Tour will be saved in your komoot profile and you will receive a notification on your smartphone, which allows you to open the Tour and start the navigation.
I use komoot on multiple phones, can the Tour only be sent to one phone?
If you use the komoot app on multiple phones/tablets, the notification will be triggered on all devices. This cannot be disabled. For example, if you don't want to receive the notifications on your tablet, you can log out of the komoot app.