You can plan Tours via the app or by using the Route planner on our website. If you prefer to use a bigger screen, please read here. To plan a Tour by using the app choose Plan () from the menu bar. Komoot suggests the most suitable Tour for your sports type, based on the information it has available, which can be adjusted by adding waypoints. The blue line shows your planned Tour.
You want to plan a Tour along a famous hiking/cycling route but don't want to start from scratch? Simply import a GPS file and customize it to your liking.
Choose a Sport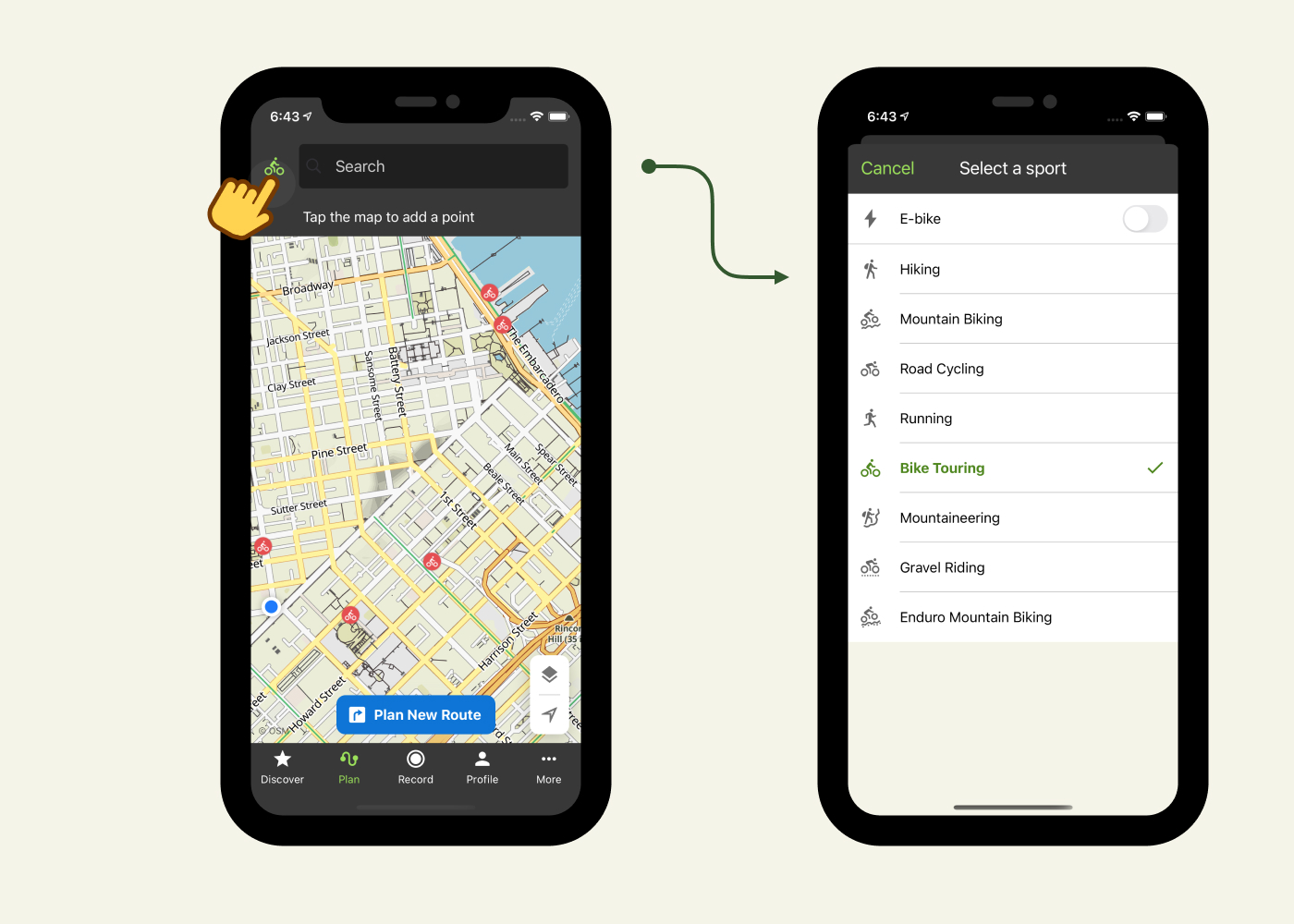 Click on the sport icon in the top left corner to access the drop-down menu of all available sports type. Then choose the sports type you want.
Note: The chosen sports type affect the types of paths choosen for the planning (for instance more paved roads if you choose Road Cycling). It also determines which Highlights (the red markers on the map) we show you. Find out more about komoot sport types.
Option 1: Plan a quick Tour on the go
For quick planning of a one way trip, you can simply select the points on the map and choose Start Here and Set as Destination.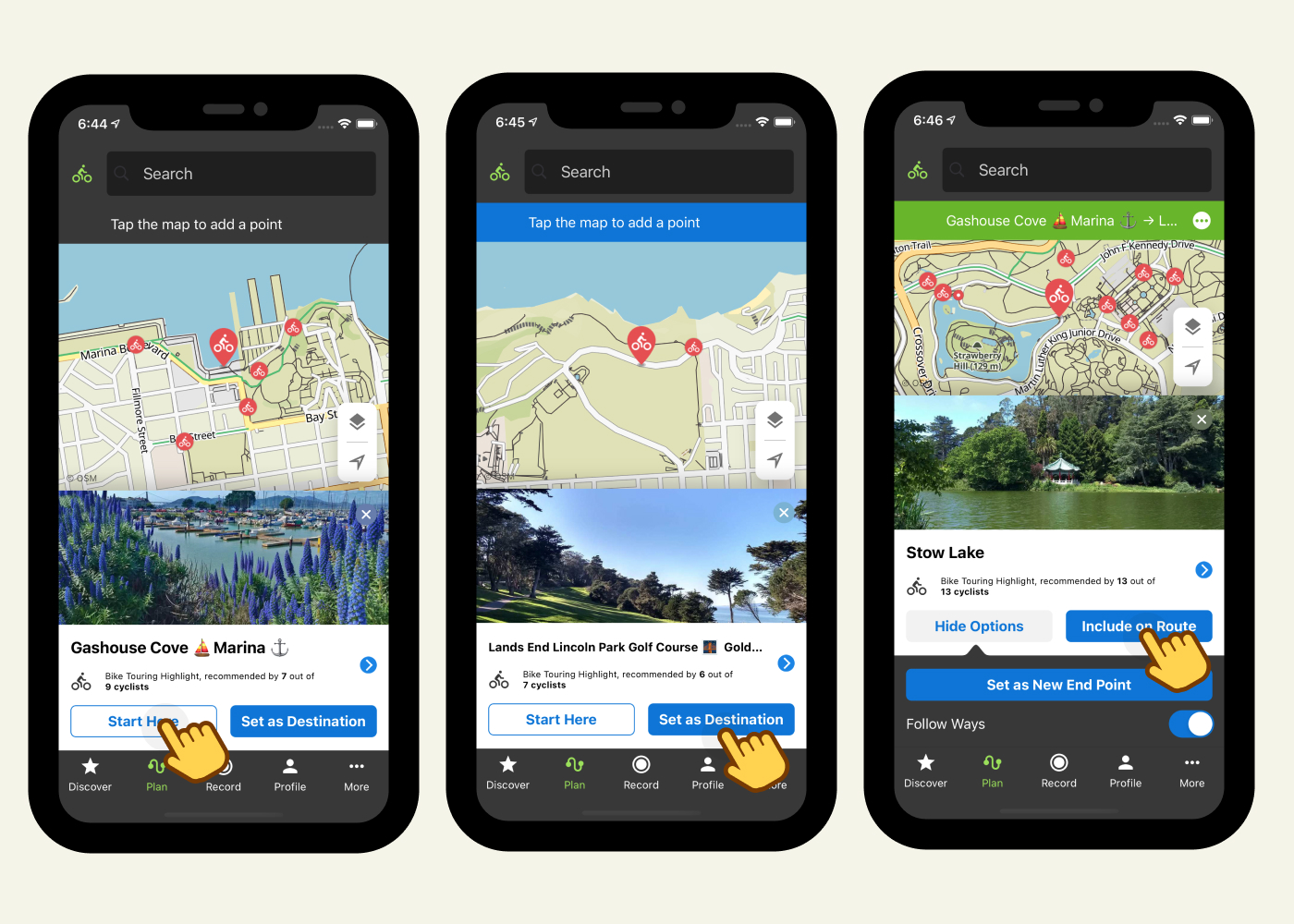 Click on the map at the position you want to start and confirm the point by Start Here.
Click at the location you want to finish your Tour and Set as Destination.
An additional tap on the map will give you the option to Include on Route or Set as New End Point, which will add the previously selected endpoint as waypoint.
Note: If you want to plan an off-grid Tour (outside of komoot routing network) click on a point on the map, select More Options and disable Follow ways.
Option 2: Plan a detailed Tour
For more in-depth planning use the route Planner menu by selecting Plan New Route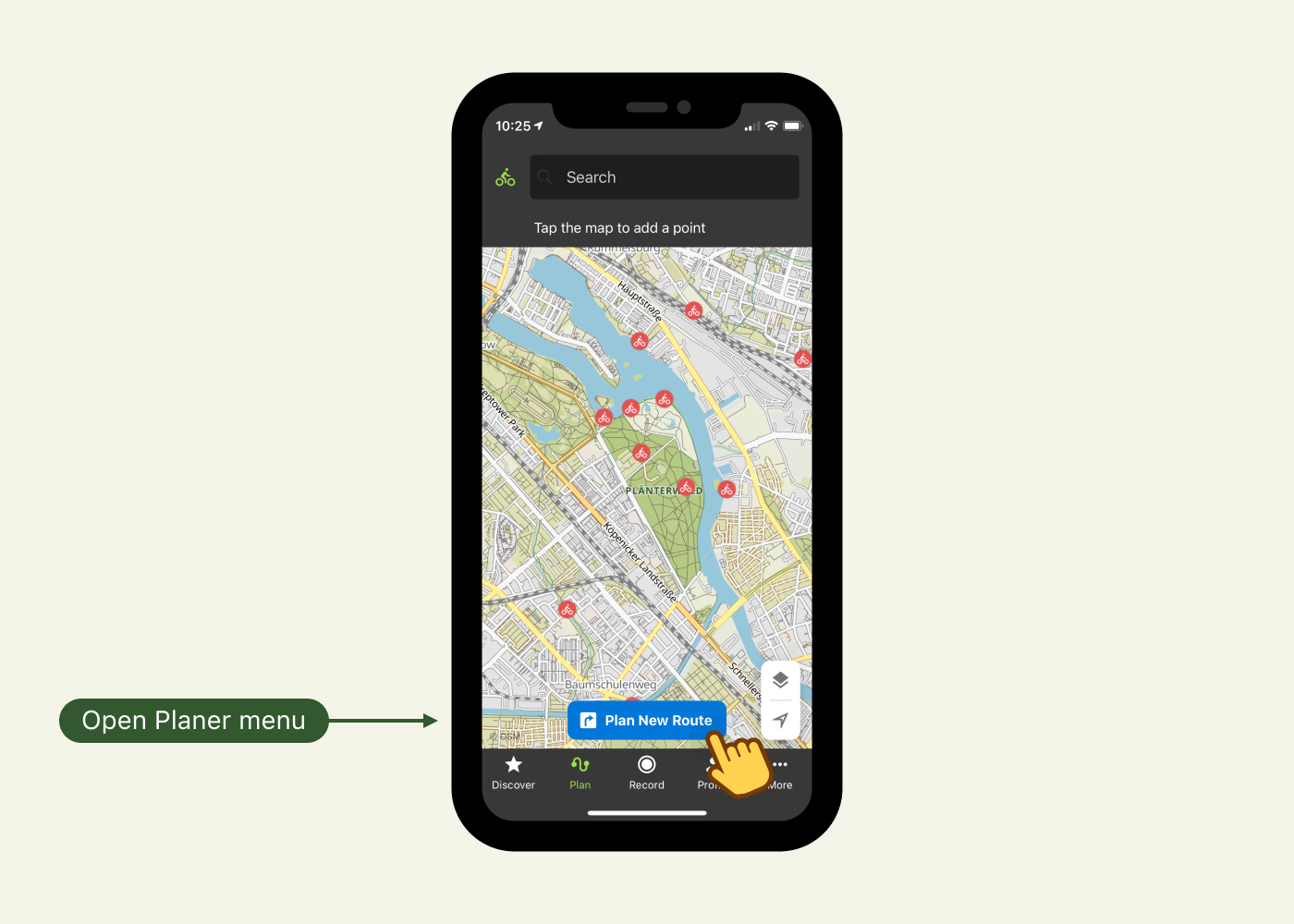 This will bring you to the following screen: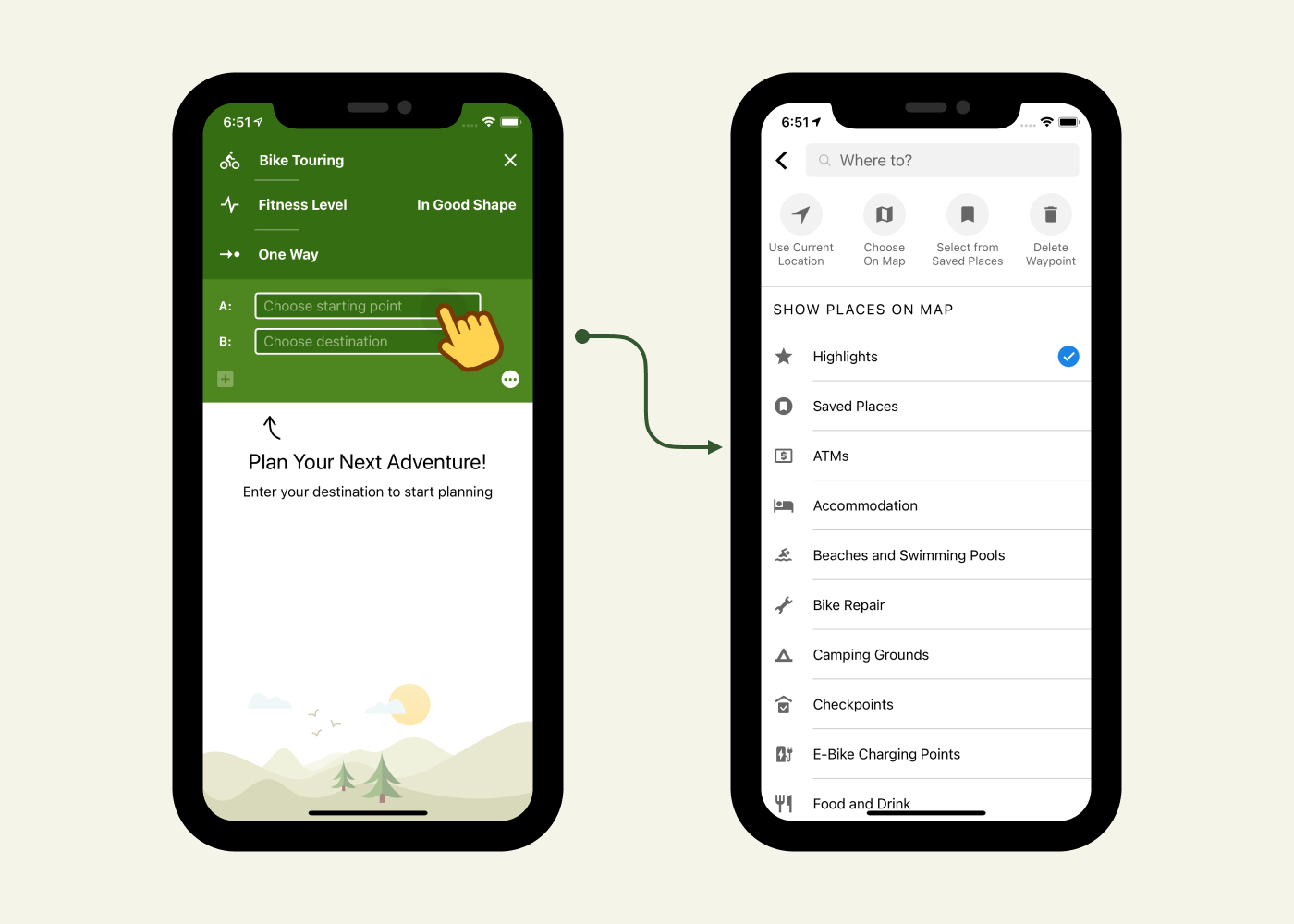 Choose or change Sport Type
Click on the sport icon in the top left corner to change the preselected sport. Whether road, touring or MTB, you can optimize your Tour duration and difficulty estimates for e-bikes by enabling the checkbox.
Adjust the Fitness level
By clicking on Fitness () you can choose out of five fitness levels. This will change the estimated time and average speed but won't suggest another Tour.
Select the Route Type
Choose whether you want to make a One Way () or a Round Trip ().
A One Way () Tour from A to B is useful if you are planning a Tour with several stages, for instance, or want to return to your starting point via public transport.
A Round Trip () takes you back to your starting point via the best possible route. If you don't want to take the same way back, set another waypoint. Find tips on how to plan a round trip here.
Choose Start- and End point
A: Indicates your starting point.
B: Indicates your destination.
Clicking in the input field will open the following options. You can enter a location or:
Use Current Location
Choose On Map
Select From Saved Places
Show places on map
Confirm your selection by clicking Start Here, Set as Destination or Include on Route in case you want to add a waypoint.
Note: If you enable Round Trip your start- and endpoint will be shown as A: and A:. Your route will be the same for both ways, unless the route includes one-way streets or you add another waypoint.
Customize your route with waypoints
To personalize the Tour, you can insert, reorder or delete waypoints.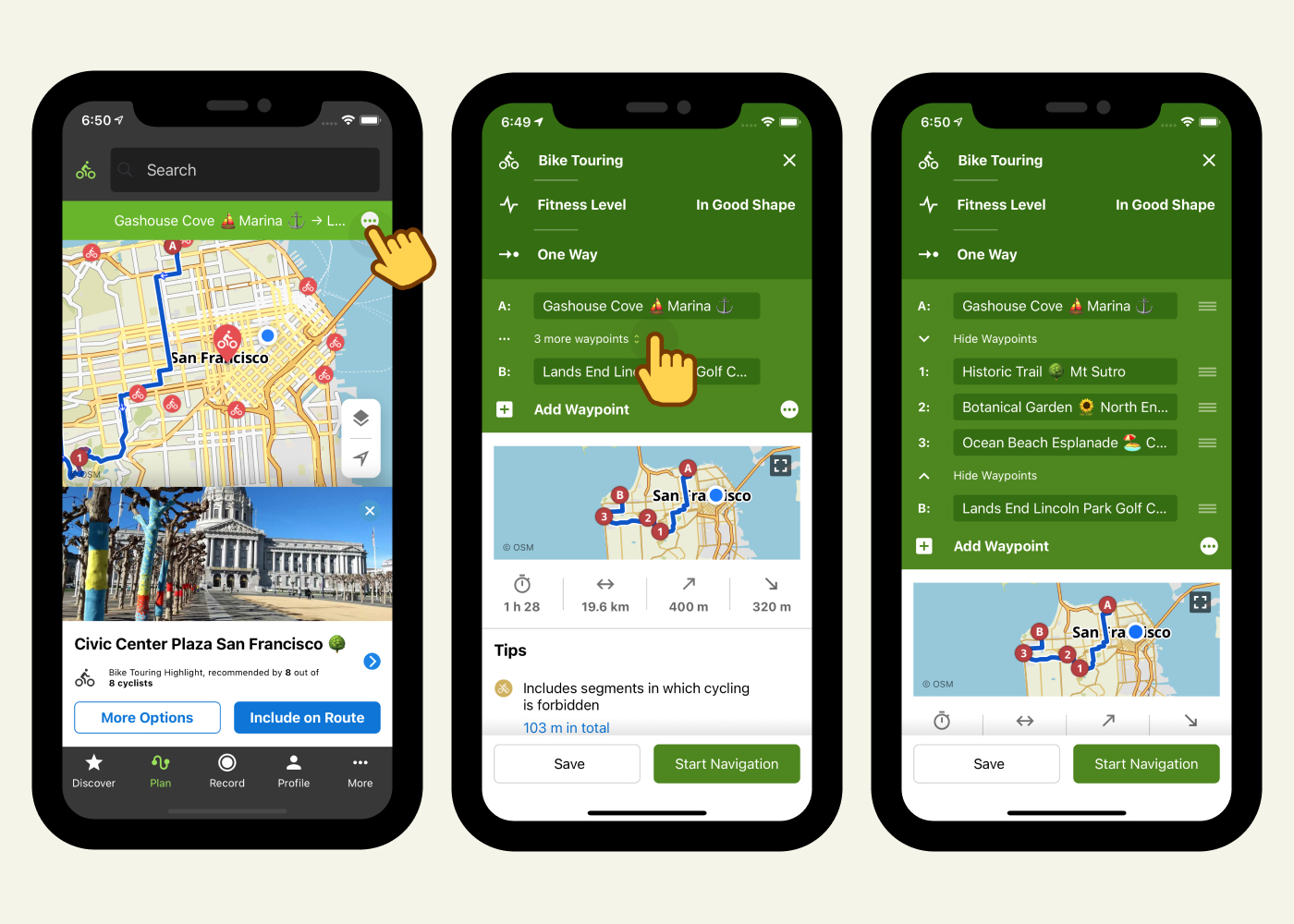 Add Waypoints
Tap in the green bar or on More () > Adjust Route which will always bring up the planning menu.
Tap in the input field to have the option to manually add addresses or show other locations like Saved Place (), Highlights () or other Point of Interests like Beaches, Parks, Camping grounds, etc. — on the map, from where you can add them to the Tour as described above.
To add another waypoint, choose Add Waypoint ().
Reorder Waypoints
Tap either on the green bar or on More () > Adjust Route. Toggle waypoints () to unfold all waypoints > tap and hold the lines () to move the waypoint.
Delete Waypoints
To delete a waypoint, select it on the map and choose Remove.
Planning options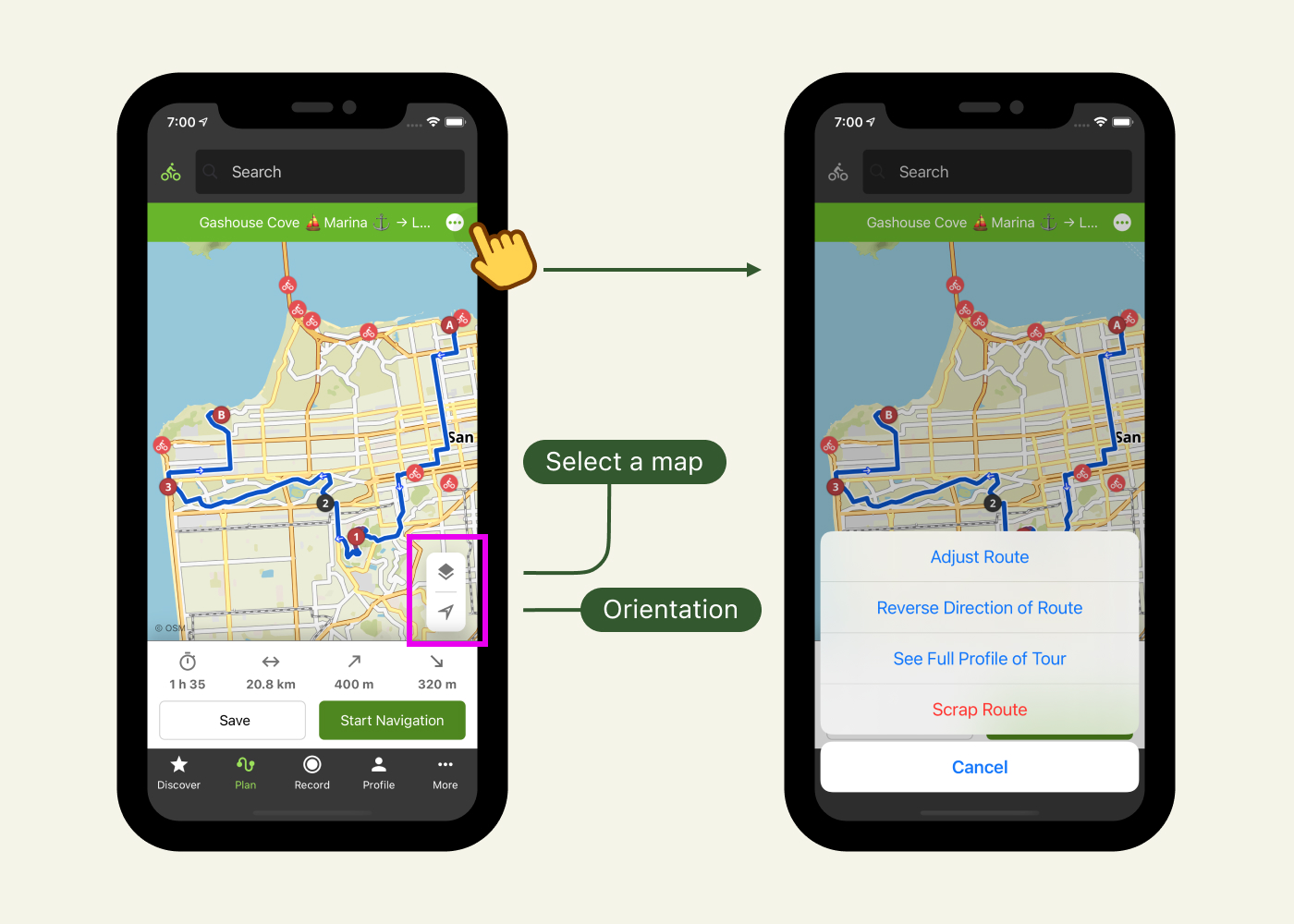 Change orientation
By tapping on the location icon () your current location will be displayed — as long as location services are activated. Tapping the location icon () again will orientate to north. Read more about switching the map direction here.
Komoot Premium Premium users can also enable sports-specific maps by clicking on the layer ().
Reverse the direction of your Tour
Tap on More () to have the option to change the direction of your entire Tour.
Attention: If you plan a Tour in one direction and decide to walk or ride it the other way around, the navigation will ask you to turn around. If you don't know in which direction you want to go, save the Tour in both directions.
Save Tour
Done planning? Make sure to save your Tour by hitting the Save button. This will save the Tour in your profile under Planned Tours.
What's next?
Once you've saved the Tour, you'll be asked to give your Tour a name and you get the option to store it for offline use. Once this is done, you end up in the Tour Profile. From here you can:
Invite friends:

Want to do the Tour with friends?

Here's how you can invite friends.
Toggle

Store for offline use.
Share the Tour by using the share button (
More (

)

always pulls up the option to edit, rename, plan a similar Tour, delete it or Export the GPX file to use it on a different device.
View Tour details like duration, length, altitude and difficulty. By scrolling down you also get detailed information about the elevation profile, waytypes and surfaces. By clicking on Details and hovering over the bar you will see the corresponding location on the map. Learn more about Tour characteristics here.
Additionally komoot prepares you with Extra Tips which include warnings like rough roads, private land or a particularly steep stretch of a trail. Learn more about our warnings here.
Attention: To access your Profile from the browser version of your computer, you need to log in with the same email address on the web version and on the app.