Planning Tours on the website
The easiest way to plan your own Tour is via the full-screen version of the Route planner on our website. All Tours planned on the Web-Version are synchronized with your Profile () in the komoot app. If you want to use the app to plan your Tour, refer to this article for Android or iOS. Komoot suggests the most suitable Tour for your sports type, based on the information it has available, which can be adjusted by adding waypoints. The blue line shows the planned Tour.
You want to plan a Tour along a famous hiking/cycling route but don't want to start from scratch? Simply import a GPS file and customize it to your liking. The Route planner is found here: https://www.komoot.com/plan/.
Choose a Sport
Click on Sport on the planning menu on the left side to choose the sports type you want to plan the Tour for. You can select the following sports types: Hiking, Bike Touring, Mountain Biking, Road Cycling, Running, Gravel Riding, Enduro Mountain Biking and Mountaineering.
Note: The sports type you choose affects the types of paths we choose for planning (for example, more paved roads if you choose Road Cycling). It also determines which Highlights (the red markers on the map) we show. Find out more about komoot sport types here.
Tip: For all cycling sport types you can optimize your Tour duration and difficulty estimates for e-bikes by enabling the "E-bike" checkbox.
Adjust the Fitness level
By clicking on Fitness () you can choose out of five fitness levels. This will change the estimated time and average speed but won't suggest another Tour.
Select the Route Type
Choose whether you want to plan One Way () or a Round Trip ().
A One Way () Tour from A to B is useful if you are planning a Tour with several stages, for instance, or want to return to your starting point via public transport.
A Round Trip () takes you back to your starting point via the fastest route for your selected sport. If you don't want to take the same way back, you can adapt the route by adding waypoints. Find tips on how to plan a round trip here.
Planning the Tour
You can always access our tips and tricks as well as the komoot legend by clicking on the question mark icon () on the bottom right side. You also learn more about how to avoid steep climbs, off-grid planning or useful keyboard shortcuts by clicking on the question mark icon ().
Set a start and end point
You need to start the Tour at start point A for the navigation to work, so pick the starting point accordingly.
Select start and end points on the map
Click anywhere on the map and select Start Here. The komoot route planner will automatically save it as your starting point. Click on another point on the map to mark your destination and confirm it with Set as Destination. By selecting another point on the map again, you get the option to Include on Route, which will create a waypoint or (only for route type One Way) to Set as new End Point.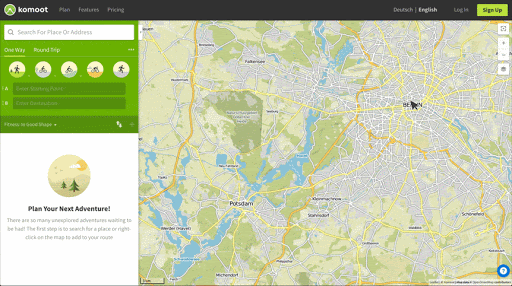 Search for start and end point
Search for a place or address to add it as start or end point. Clicking on the dark green starting/end point field on the left-hand side to automatically select that location.
Tip: If you want to start/end your Tour from a Point of Interest eg. train station or a bookmarked place, click in the gray search bar Search For Places Or Address. Here's more information about planning with Points of Interest.
Manage waypoints
You can use waypoints to customise the Tour. Choose your own waypoints, add Highlights or select any Point of Interest (for parking, accommodation, public transport, swimming, parks etc.).
1. Add waypoints on the map
Click anywhere on the map with your left mouse key to add another waypoint. If you click Include on Route, the komoot route planner will automatically add and sort the new waypoint at the best possible spot on your Tour.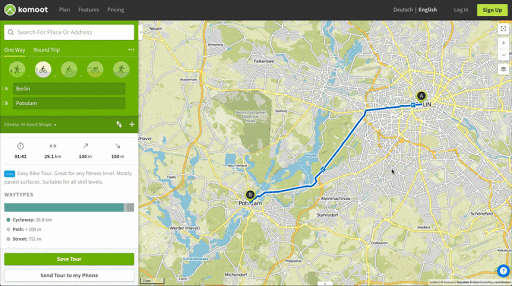 2. Add waypoints manually
Click on the plus sign () to add a new waypoint. This creates a new waypoint right before the endpoint of your Tour and you can use the input field to enter an address.
By clicking on Search For Places Or Address you can show other locations like Bookmarked Place (), Highlights () or Point of Interests on the map. You can use this to search for an address and select Include on Route to automatically add the place or address as a new waypoint.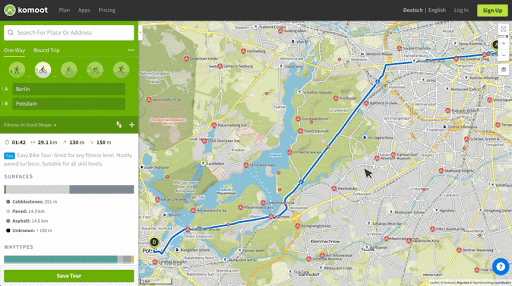 3. Reorder waypoints
Within the planning menu you can reorder your waypoints at any time by dragging them up or down by clicking on the three lines (). You might need to display all waypoints before you can change their order.
4. Delete waypoints
Hover over the waypoint in the planning menu. Use the bin icon () to delete the waypoint. Alternatively, select the waypoint on the map and select Remove.
Adjust your Tour with drag and drop
You can drag the Tour line anywhere to adjust your route and to create a new waypoint. You can also move existing waypoints via drag and drop.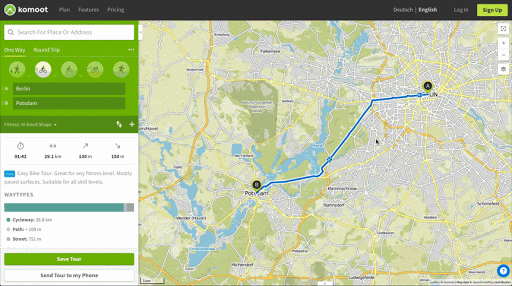 Note: If the route you wish to use is not accepted, it's possible it cannot be used via the sport you have chosen, cannot be used in your chosen direction, or accesses private property.
Reverse the direction of your Tour
Change the direction of the entire Tour by using the arrow icon ().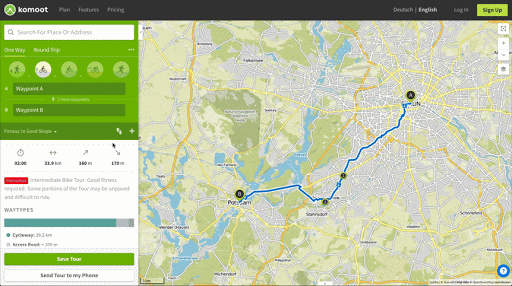 Attention: If you plan a Tour in one direction and decide to walk the other way around, the navigation will ask you to turn around. If you don't know in which direction you want to go, save the Tour in both directions.
Select a different map
The layer icon () on the right-hand side can be used to display other map layers, such as the OpenCycleMap or Satellite layers.
Komoot Premium Premium users can enable sports-specific maps by clicking on the layer icon ()
Undo changes
If you've accidentally removed a waypoint or want to undo your latest changes, click the undo button () or () in the top bar.
Save Tour
Done planning? Make sure to save your Tour by using the Save Tour button in the top right corner. This will save the Tour in your profile under Planned Tours.
View Tour details
The Route planner provides detailed information about your Tour while planning. You can find basic information like duration, length and altitude, the difficulty, as well as waytypes and surface types. By hovering over the waytypes and surfaces bar, you will see the corresponding location on the map. Learn more about Tour characteristics here. Additionally komoot prepares you with helpful route warnings like rough roads, private land or a particularly steep stretch of a trail. Learn more about our warnings here.
Duration: You can influence your Tour's duration by adjusting the Fitness bar from Untrained to Pro (5 levels).
Difficulty: blue = easy, red = medium, black = difficult. Learn more about komoot's difficulty levels & Tour characteristics
Komoot Premium Premium users can see a weather forecast. Click on See Forecast and adjust the starting time to get information about Temperature, Precipitation, Wind and Sun.
What's next?
Once you've saved the Tour, you'll see the options to:
Invite friends:

Want to do the Tour with friends?

Here's how you can invite friends.
Print the Tour instructions
Navigate the Tour in the app: Your Tour will automatically sync to your planned Tours in the komoot app. You find it here: Profile () > Tours > Planned.
Make Tour available offline: Toggle Store for offline use in the app.
Attention: If you can't see your planned Tour on your phone, make sure you're logged in with the same email address.