Use komoot Tours with Garmin Courses Sync integration
If you want to use your komoot Tours on your Garmin device you can use our integration to pull your completed Tours from your Garmin device to komoot and push the planned komoot Tours to your Garmin, so that you can navigate them on your device.
Setting up the connection
You can set up the connection on the komoot website or in the App. To set up the connection log in to komoot and go to Profile () > Settings () > Connections > Garmin Connect choose Connect with Garmin. You will be asked to enter your Garmin account details and confirm the connection.
After you have entered your details you will get two options for the activation: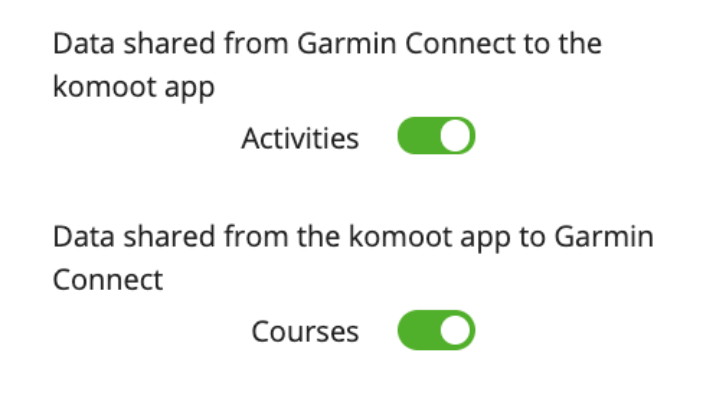 Transferring Tours from Garmin Connect to komoot
If you enable Activities, all your tours from the last five years will be uploaded from your Garmin Connect account to your komoot account. These tours are automatically synchronized and it is not possible to manually influence or undo this synchronization once you have selected this option.
You have the option to bulk delete the Tours you don't want to have on komoot. You can find this option on the website by going to More () > Settings > Connections and selecting Review import. In the App: Profile () > Settings () > Garmin Connect > Review import
Transferring Tours from komoot to Garmin Connect
Activating the Courses toggle will push all your planned Tours from komoot to your Garmin device. Those Tours will be synced automatically and there is no way you can manually influence this synchronization or prevent it from happening once you have chosen this option.
The last 20 planned komoot Tours are displayed in Garmin Connect under "Training and Planning" > "Courses". Additional planned komoot Tours can be imported as GPX file at any time.
Note: You may have to reset all map filters to show the routes.
Please check here if this option is available for your device: List of compatible Garmin devices.
Getting the komoot App for your Garmin
For compatible devices you are able to download the komoot app from the Garmin Connect IQ store and use komoot directly on your device. Please read here if your device has this option: List of compatible Garmin devices.
You can get instructions about how to set up the komoot app on your Garmin device by reading this article: Using the komoot App on your Garmin.
Importing Tours as GPX files
If your Garmin device is not compatible with any of those two options, you can export your komoot Tours as a GPX file and upload them to your Garmin manually. Here's how this works: Import Tours as GPX file to Garmin.